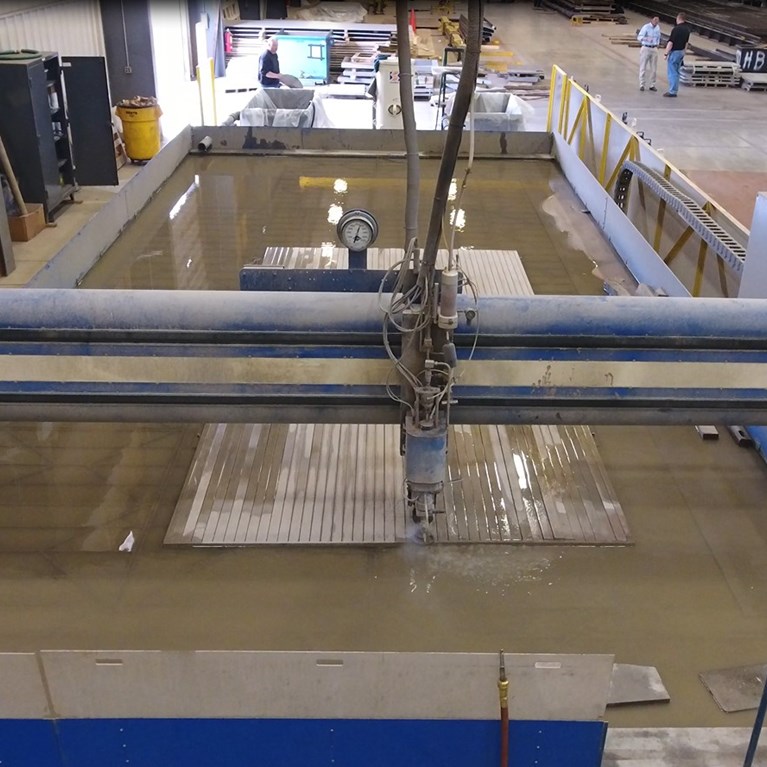 Water Jet Cutting
With some of the largest water jet cutting systems available, AT&F can offer precise machine-quality tolerances with ultrafast cutting speeds on ferrous or non-ferrous materials including composites. The accuracy and efficiency of water jet cutting allow for minimal machining after cutting. Our new water jet machines have 5-axis heads and utilize the latest nesting technology to maximize efficient throughput.
AT&F recently added a second water jet cutting system.  Increasing demand for Aerospace and Defense parts led to our investment in additional capacity.  With a massive, 47 foot long (14M) table, large, challenging cutting projects are our forte.  Both water jet systems at AT&F provide consistency and precision for our customers.
5-AXIS WATER JET CUTTING
The five-axis head design will allow for a variety of intricate and complex angle cuts from 0-90 degrees, including beveled edges. In addition, the system possesses one of the largest cutting envelopes available, able to handle sections of material up to 14 ft wide (4M), 47 ft long (14M), and 12 inches thick (30cm).
Water jet cutting is an ideal method for processing materials which are sensitive to high temperatures generated by alternative cutting methods. Material examples include; aluminum, titanium, stainless steel, carbon and other alloys.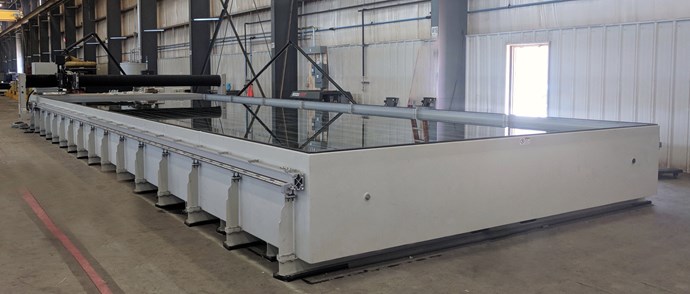 Specifications
14' x 47' (4M x 14M) cutting envelope
Unlimited rotation in either direction without wind up or unwind
Thicknesses up to 12″ (30cm)
Range of Travel: 12" (30cm) vertical travel on Z-axis
Accuracies: ± 0.0166 degrees (± 1 arc minute)
5-Axis head is capable of producing complex bevels and weld landings from 0° to 90°
Most accurate 5-Axis cutting head of their kind in the waterjet cutting industry
Ideal for specialty materials (titanium, stainless, alloys, composites) or to avoid heat affected zone
Materials
All grades of carbon steel
High strength steel
Alloy steel
Specialty Metals
Metallic armor