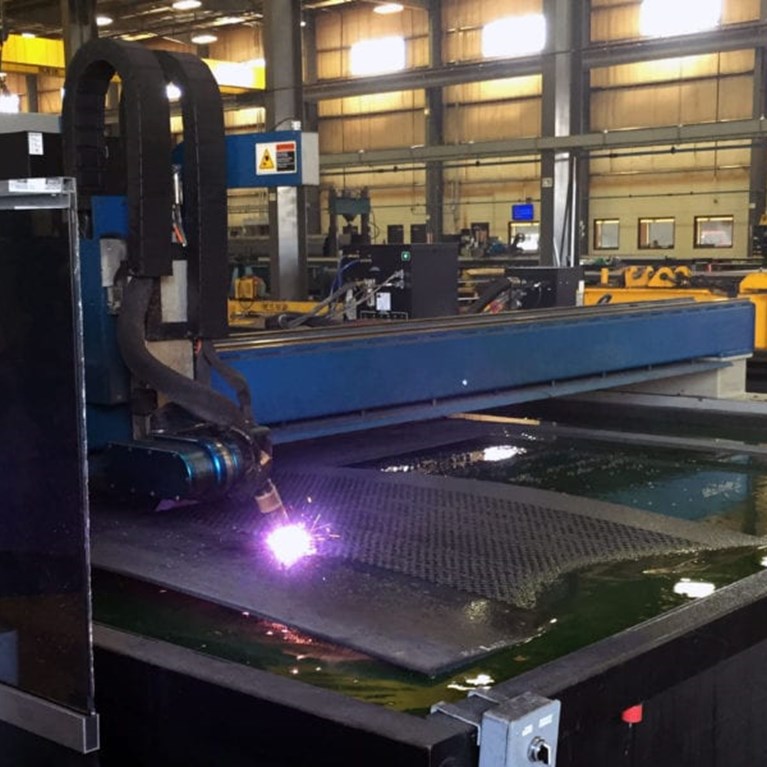 High Definition Plasma Cutting
Our 5-axis High Definition Plasma machine, with its multi-axis cutting head, can achieve complex weld preparation bevels while holding precise tolerances.  By offering our customers this innovative cutting technology along with Laser, Waterjet, Robotic Beveling, and other forms of precision cutting, AT&F can efficiently handle your critical requirements.
Benefits of Plasma Cutting
As opposed to laser cutting, HD Plasma cutting uses an electric current and high-velocity inert gas to create plasma – an electrically conductive ionized gas.  The plasma is hot enough to melt metal and blow it away from the cut. Though heat is applied during cutting, the heat affected zone is minimal.  Choosing between laser and plasma cutting is dependent on material, thickness, and application.  Contact an AT&F team member to discuss a specific project.
Eliminating the need for a secondary process, such as edge dressing, helps produce a ready-to-assemble product.  The 5-axis high definition plasma machine is an innovative asset AT&F utilizes to maximize efficiency for our customers.
Machine Capabilities
Complex shapes
Angles
Bevels
Landings
Weld preparations
HD Plasma Specifications
5-Axis head with unlimited rotation
12 in (305 mm) vertical travel on Z-axis
10 ft x 48 ft (3.05 m x 14.63 m) cutting envelope
Up to 2 in (50.8 mm) thick
Combination of High Speed & Accuracy
Materials
All grades of carbon steel
High strength steel
Alloy steel
Specialty Metals
Metallic armor