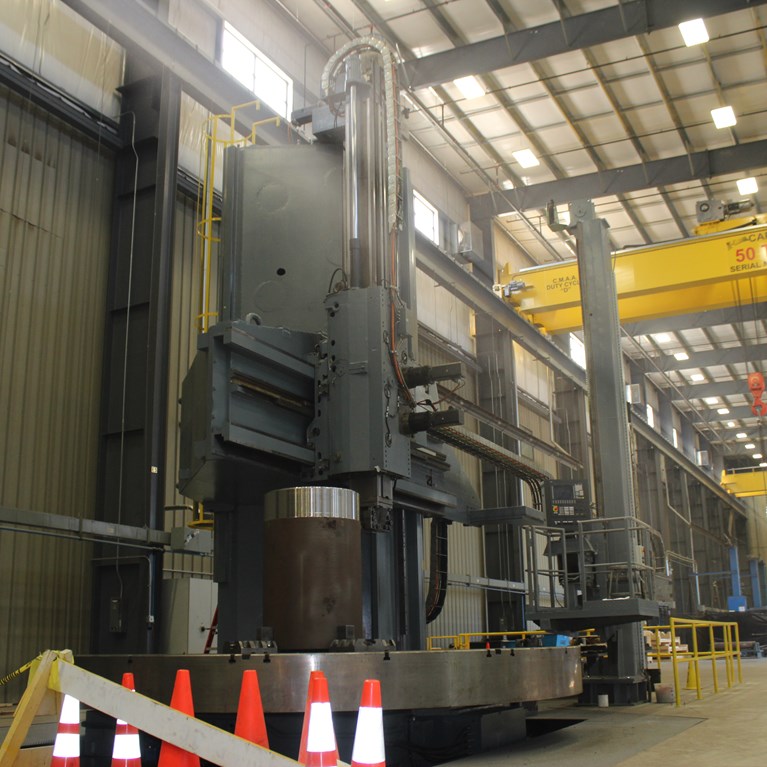 Vertical Boring Mill Machine
As a recognized world leader in large scale welding and steel fabrication, AT&F expands large CNC machining capabilities with the addition of a CNC vertical boring mill, and vertical turning lathe. This equipment, coupled with the neighboring horizontal boring machines, brings full-service, large-scale machining to our steel fabrication customers. The vertical boring mill is located at AT&F's Cleveland campus.
The equipment can handle heavy machining jobs with its 16-foot (5) diameter indexing table, which features a 360-degree rotation and load capacity of 160 tons. Capabilities include a 30-foot (9M) swing, over 8-foot (2M) ram travel, as well as Y-axis table movement. This machine offers customers the ability to purchase finished weldments from AT&F. Contract machining services can also be provided as needed. With these types of equipment investments, AT&F has enjoyed substantial growth in recent years.
According to Michael Ripich, President of AT&F, "We expanded our capabilities to better serve our customers' needs by investing in equipment to provide large precision components, ready for assembly in our facility or by our customers. The new vertical and horizontal boring mills, coupled with some of the world's largest forming and rolling equipment, and state of the art welding technology including robotic and hybrid laser, allow us to do more for our customers all from one location. The vertical boring mill is housed with our horizontal boring mill in a facility with a 100-ton lift capacity, rail access and 25-foot (8) doors. Consistent with our key strategy, we continue to invest in our customer's success."
VBM Specifications:
Table Diameter 500cm (196.85")
Max Swing (max turning dia) 900cm (354")
Max Machine Height 400cm (157")
Table Load Capacity 160T
Vertical Ram Travel 250cm (98.42")
Main Motor Power 150 HP
Live Spindle Power 40 HP